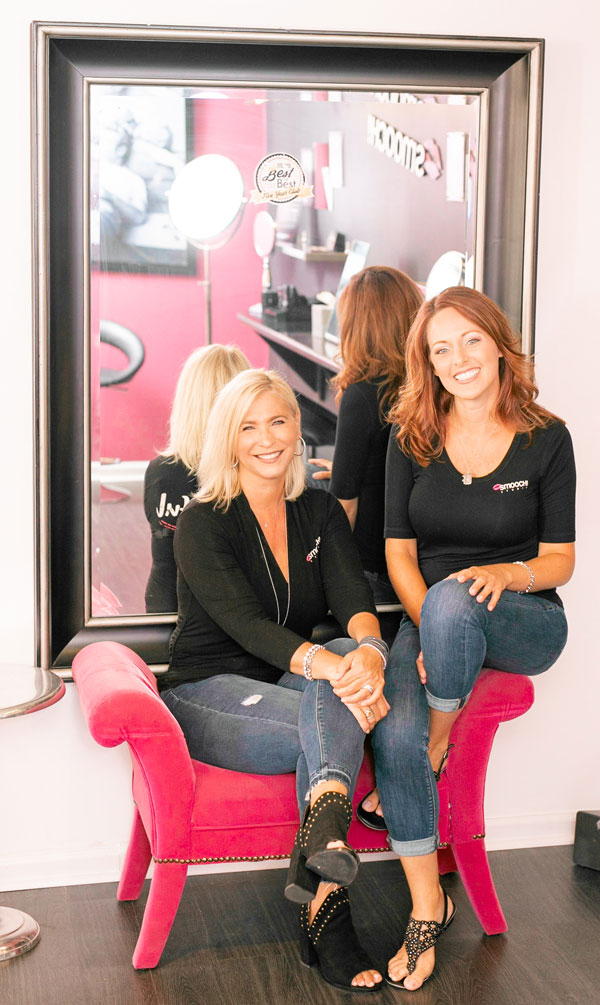 You're not just another pretty face. So why use generic, one-size-fits-all makeup? Smooch! is all about YOU! We want to empower women of all ages to feel confident, sexy and adventurous about their makeup. We use quality products, combined with years of experience to create looks that are right for your face, your life, your individuality. With the right look, you can show the world your most gorgeous self.
Hi, we're Nicole & Kendra, co-owners & founders. We started smooch! in 2009 in a quaint little shop in downtown Frederick, MD and grew exponentially over the years.
Our passion is illuminating each person's unique beauty and teaching the everyday woman how to shine by maximizing features & minimizing flaws. Our products are packed with skin-loving ingredients and results driven benefits. In 2023, we made the transition from brick & mortar to a 100% online business. We also take one on one appointments via zoom & do local pop ups for in-person appointments Be sure to follow us on Instagram & Facebook for exciting updates, deals and announcements. We are so blessed to be able to live our passion every day, thanks to our amazing customers.
Ingredient Integrity. We give you the most effective blend of nature, science & technology! From skincare that transforms your skin to non-toxic make-up that becomes an extension of your skincare, we have you covered.
Keepin' it real with plant-based oils and botanicals that feel so natural, you'll forget you're wearing anything at all! We even offer Allergen free, Gluten-Free & Vegan Products for unprocessed perfection. ZERO of the toxic nastiness that lurks in the ingredients in the beauty industry.
K.I.S.S. (KEEPING IT SMART AND SIMPLE). We believe you should see the effect of makeup, not the makeup itself. Maximize your features and minimize your flaws with a seamless routine that fits your lifestyle. Be sure to follow us on social media for fun tutorials or catch us at a live pop up shop or schedule a one on one zoom appointment with one of our amazing artists.
Custom, Anyone? Same is so lame! You are one in a million…one in a billion…one in a TRILLION! We love that you're unique. At Smooch!, you can get exactly what's right for you with Custom Makeup! Our ability to custom formulate your perfect foundation is so different, so true to you, it's one in a…well, you get it. Plus, with our Color Disc System you can personalize your makeup for any you you happen to be today.
Smooch! is anything but ordinary.
COLOR DISC SYSTEM (discs for refillable compacts- don't forget to choose the right compact for your discs)! Maybe your daily style has multiple personalities. Want to go from mild-mannered Miss, to polished professional, to vamped-up vixen? Using our magnetic Color Disc System and our vast array of eyeshadows, bronzers, and blushers in tons of colors and textures, you'll never be at a loss for looks. We've got the tools and techniques to achieve any alter-ego image faster than a speeding bullet and before you can say "it's a bird..it's plane…!" Come have a session with one of our makeup artists to show you how to get what you want out of your makeup.
*Nothing on the Smooch! website should be interpreted as medical advice in any way. Always check with your physician regarding any questions or concerns you have about allergies and what is healthy for your skin.


Update your face…you wear it everyday! Get out of the box and into Smooch! to be your most gorgeous self!