invent your perfect lip color!
NO mineral oil. NO chemical dyes. NO fragrances.
NO animal by-products. NO petroleum NO parabens.
Your lip color can be the magic that pulls your entire look together, or the bad mistake that makes it all fall apart. Don't be a lipstick victim any longer! Your perfect lip color is waiting to be created.

1
CHOOSE YOUR BASE. We start with a base of natural plant wax and give you a choice of three different textures for lipstick or lipgloss. Whether you like it shiny and balmy, smooth and creamy, or totally matte, we have the perfect texture for you.

2
ADD SOME COLOR.We add pure pigments to start creating the ideal color for you.

3
ADD SOME DIMENSION. To finish mixing your color, we add mineral frosts which bring the perfect depth and dimension to every color.

4
FINISHING TOUCHES.. Don't forget the anti-aging, extra moisture or silkener. And, oh yes — flavor, too! From mint or cinnamon to chocolate cherry or citrus you are sure to find the one you love.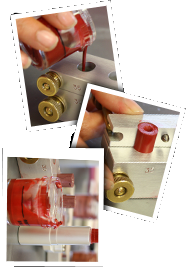 5
TAKE IT HOME. For lipstick — we melt it down, pour it into the mold to set, then tube it, so you can be on your way.
For gloss — we pour it into a gloss tube that has a built-in wand in the cap for easy and perfect application every time. Or, if you prefer a gloss pot, we can make it happen. Don't forget about lip gloss minis for on-the-go touch-ups.
HOW TO GET YOUR HANDS ON CUSTOM LIPSTICK & LIPGLOSS
YOUR FIRST TIME: Come into Smooch! to let us formulate your first custom lipstick or lipgloss. We need you here so we can mix the perfect color with the perfect finishing touches. After that, you can simply re-order online or at the boutique.
RE-ORDER YOUR CUSTOM PRODUCT ONLINE
If you have been into Smooch!, and we've created a custom lipstick or lipgloss for you, we put your special formula on file. To re-order, simply add a "Custom Lipstick" or "Custom Lipgloss" below. Fill in your First and Last Name, and we'll make it up fresh and ship it to your door! Voila!
Showing all 2 results